Haitian Castor Oil - Pineapple Coconut
DESCRIPTION
So many benefits, one simple ingredient. Sourced from the island, our 100% natural Haitian Castor Oil is great for nourishing and conditioning your hair and scalp. It also works great for hydrating skin.
Organic Pineapple Coconut Oil

With the added benefit of organic pineapple-coconut oil this infused 100% Haitian Castor Oil moisturizes hair and promotes healthy hair growth. With its tropical aroma, you will be instantly transported to a relaxing island oasis.
OUR PROMISES
We promise to ALWAYS use plant-based ingredients that are 100% natural and/or organic. We promise NEVER to use parabens, sulfates, Phthalates, or mineral oils.

Free shipping on U.S. orders over $50 More Info

Quality GuaranteeMore Info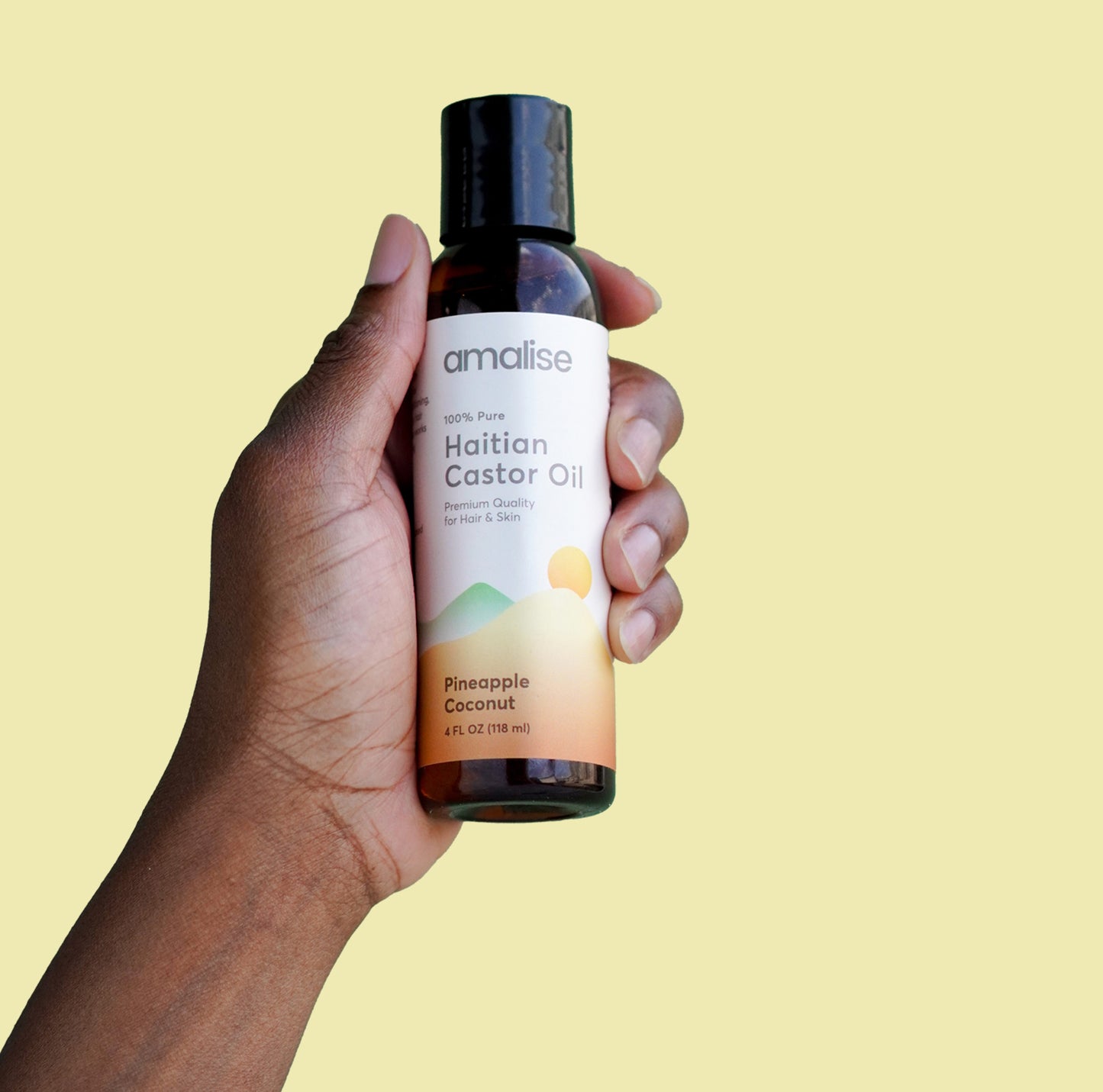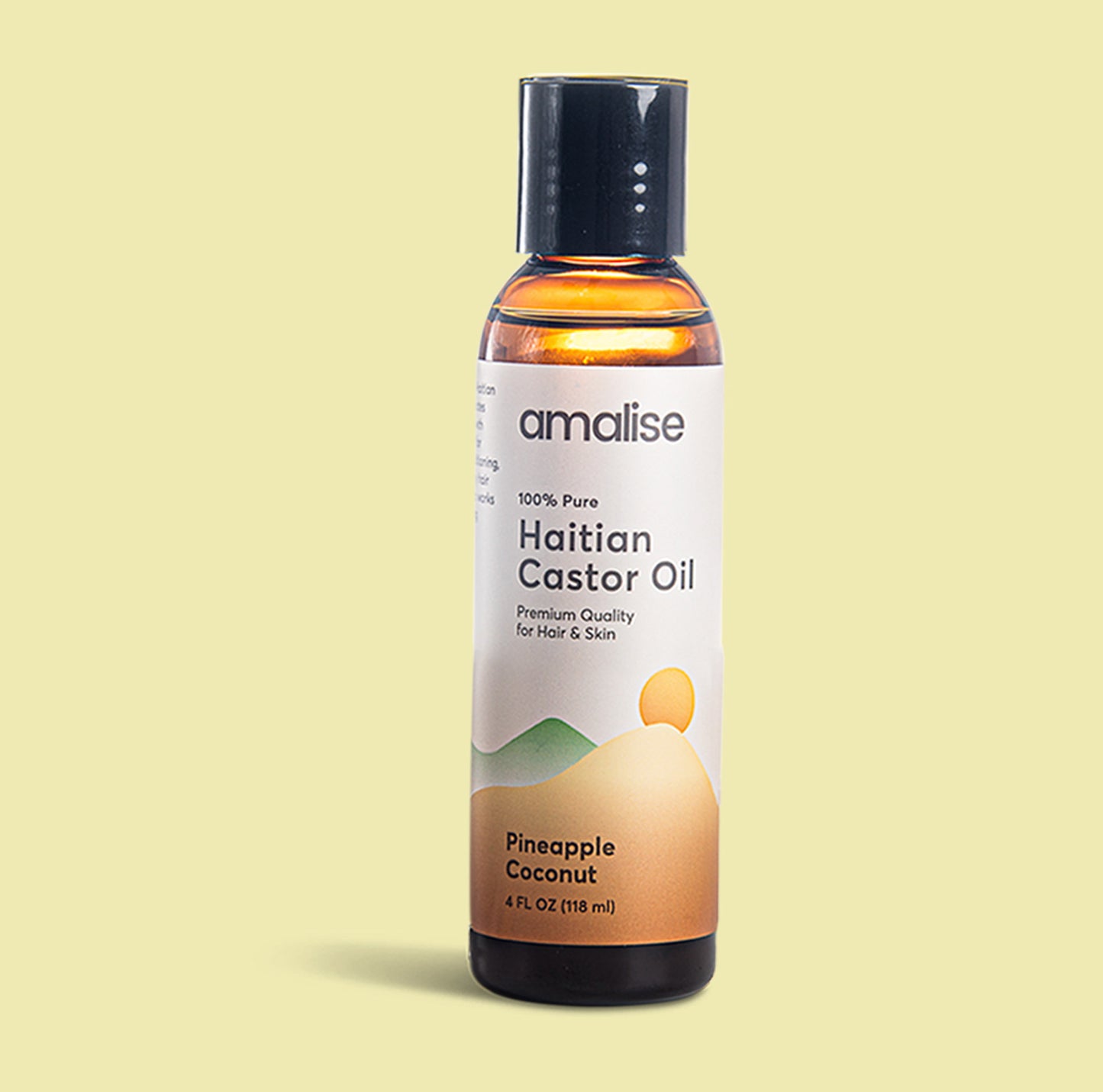 How To use

Hair Care

Apply directly to scalp or rub a small amount into palm and smooth from roots to ends of hair. Style as usual. For hot oil treatment, apply warm oil to hair, place under a treatment cap for 30-60 minutes with or without heat and rinse well.

Skin Care

Massage into dry skin to restore moisture and smoothen skin

Other Uses

Add a small drop to fingertip then massage into eyebrows or apply to lashes for maximum length and fullness.

Why it works

This little bottle will be a staple in your medicine cabinet. It naturally does what a variety of over-the-counter medicines cannot. Using the power of hyaluronic acid, Vitamin E, and natural antibacterials, Haitian Castor Oil will restore your dry hair and skin. The ricinoleic acid found in castor oil has anti-inflammatory properties to help with those aches and pains.
Great
Great good ol Haitian castor oil.
Goodness oil
If you're like me, you love the way that Haitian Castor Oil makes your hair shine like the sun on a clear day. But let's get real: that scent is unmistakable! One whiff and you're transported back to a childhood of Sunday hair routines where you are sitting between your mamas knees as she works her magic on your unruly coils.
But fear not! With this trusty oil, you can have the best of both worlds. Love the oil? Check. Love the scent? Check. Love your hair? Triple check! So go ahead and slather on that Haitian Castor Oil with no fear of the dreaded "oil smell". Your hair (and nose) will thank you!
Pineapple hair oil
Might be good but I'm not consistent as I should be using it.
Smells good, arrived quickly
I'm okay with jbco smell anyway, but this added fragrance is great — not too strong, just right.
Haitian Castor Oil!!!
I love the Moroccan Mist and purchased that along with the Haitian Castor Oil this time. This was my first time purchasing the oil for myself and I was not disappointed. This is one of the best oils I have ever purchased. It's hard to find pure Haitian Castor Oil nowadays without extra ingredients or just plain out Non-Haitian Castor Oil being sold as such. As soon as I opened this bottle, the bold nutty aroma hit me and the color is rich. My hair seemed to LOVE it and now it will double as skincare for me also. My skin absorbed it very well. The mist & the oil is my new duo and is now the center of my haircare routine. Great quantity, great quality, and great price. I will continue to support Amalise and their products. Thanks Amalise!
Hair Care Trio/Haitian Castor Oil
I love the Nourish Hair Cream. It's the only product that I've used that does flake.
I love Haitian Castor oil. I use it on my scalp and on my body. It's great!
Fabulous Product
Fabulous product from a good merchant
Citrus & Lemon Grass Scent
I just tried the Citrus & Lemongrass scented castor oils and they did not disappoint! I love this Haitian castor oil and my hair really loves it too.
I can't wait to purchase the Pineapple scent.
Great Haircare Products
I love your hair products so much!!! It really catered to my dry hair!